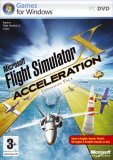 Flight Simulator X: Acceleration is the action-filled expansion pack for the award-winning Flight Simulator X video game. With Flight Simulator X: Acceleration gamers of all ages, types and skill levels can race against friends in amazing, highly detailed locations around the world, test their skills and heroism in many new missions, fly three exciting new aircraft, and share rewards, photos and videos with friends and the broader flight community.
Flight Simulator X: Acceleration features:
Multiplayer racing mode
A new multiplayer racing mode that will allow gamers to compete against friends with four types of racing: aerobatic style, Reno high-speed, cross-country and sailplane. Gamers will be able to test their skills in three different levels of difficulty from simple pylon racing to racing in harsh weather conditions.
New missions
More than 20 new missions that will allow gamers to test their skills at tasks ranging from test piloting a fighter jet to search and rescue.
New aircraft
Fly through highly detailed scenery in three new aircraft: the F/A-18A Hornet, P-51D Mustang and EH-101 helicopter.
Connected world
Online mode allows gamers to race against friends and work together to complete missions as they interact with other aviators from around the globe by chatting in real time via headset and keyboard.
Easier set-up
Easier installation, reliability standards and support for key features of Windows Vista, including the Games Explorer, and Parental Controls.
If you want Buy it now just click on the image and order