New Review - FSFlyingSchool
Posted by jackfolla on March 02 2008 20:45:54
---
author: http://fsxblogger.blogspot.com/2008/01/new-review-fsflyingschool.html












Senior staff reviewer Jeff Shyluk goes back to school to break some bad habits while exploring FlyingSchool. "This a useful product that simulates having a Flight Instructor along with you as you fly in FSX, FS2004, or FS2002."

"It provides a simulated flight instructor who watches over how you handle your aircraft from taxi to final touchdown, and who can grade your performance. As well, your flight data can be logged and even uploaded onto the Internet so you can see how you compare with other sim pilots."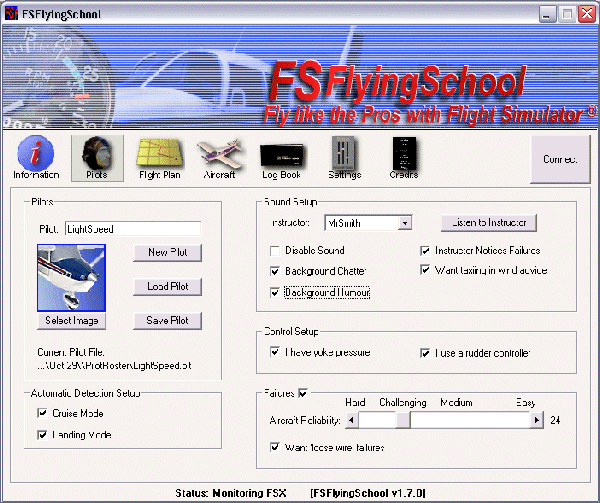 "FSFS is capable of using a wide variety of aircraft including large passenger jets as well as single-propeller General Aviation planes. It cannot use acrobatic aircraft, gliders, or helicopters, though. If your favourite aircraft is not supported directly by FSFS, it's very easy to add it using a simple performance editor included with the program. "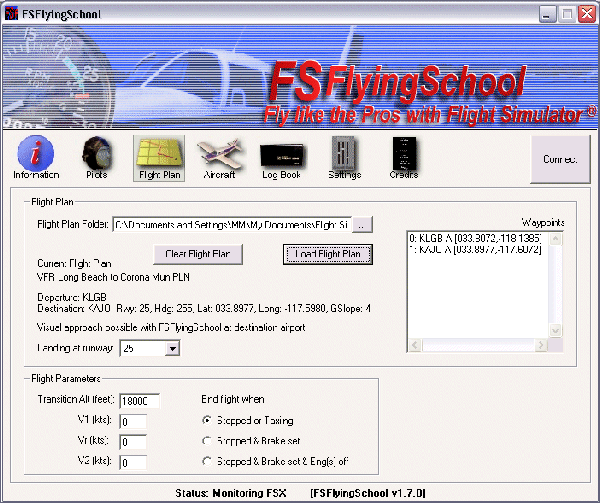 "The instructor follows the progress of your flight from your initial taxi to after your final touchdown. He or she will talk to you as you fly, letting you know when you are doing something wrong or unsafe, and sometimes offering constructive flight tips. The most interaction comes during the landing phase, which can either be a VFR (Visual Flight Rules) or an IFR (Instrument Flight Rules) landing. Afterwards, you are graded on several aspects of your flight performance."

"The FSFlyingSchool application runs smoothly and without any major bugs. It does require a reasonably fast computer system, and it works best if you fly using high-quality flight controls like a yoke, throttle, and rudder pedals. The instructor voices are recorded at a low audio resolution, but are acceptably realistic for use in a sim cockpit. All of the instructors speak clearly and their comments are easy to understand. The user is free to modify the instructors in FSFS, including recording their own voices, if they wish."

"A fast-learning student pilot will quickly understand the importance of planning the landing sequence in advance. Even a few circuits with an FSFS instructor should help you settle into a good rhythm for making acceptable landings. Now that I've spent some hours with FSFS, I find that I am working some of the bad sim-flying habits out of my system, and I think I am getting better at aviation simulation in general."

Jeff's final word about FSFlyingSchool is "if you believe that you are ready for more realistic and more disciplined sim aviation, then FSFlyingSchool is worth checking out. You can try before you buy with the FSFS demo download, which means that you can easily see if this interesting program is right for you."

YOU CAN BUY FSFlyingSchool HERE