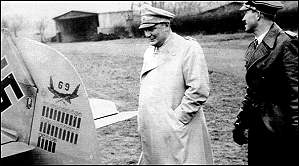 Reichsmarschall Hermann Göring wondered with Adolf Galland his air victory insignia on Messerschmitt's Bf-109 F tail. Wisscent airfield, spring 1941.
---
The short biography of Adolf Galland is described in story: Adolf Galland - Fighter General. . Here I decided to describe a small, but very dramatic episode dated July 2nd, 1941. This day JG 26 "Schlageter" spotted probably Polish fighters from 308th "City of Krakow" Squadron under command of Cpt. Marian Pisarek (details from Polish side on Pisarek's page!). Polish pilots claimed 5 destroyed "Messers'", but Germans from JG 26 lost at least 2 Bf 109s. One of them, piloted by Oberleutnant Martin Rysavy (8 kills) of 2./JG 26, was reportedly shot down by "friendly Flak". Rysavy was killed. But probably 308th Squadron can add him to score board.
On this day, Oberleutnant Josef "Pips" Priller (who at that time served as Staffelkapitän 1./JG 26) shot down his 29th enemy.
The Geschwaderkommodore Oberstleutnant Adolf Galland took off, despite wounds he had received when he was shot down on 21 June, and despite the fact that he had received orders that forbade him to take part in air combat since he was decorated with the Swords to the Knight´s Cross with Oak Leaves. He led the whole JG 26 in an attack against the formation of "Blenheim's" and escort fighters - probably of 308th Squadron, they just covered that bombers... Galland shot down one "Blenheim" (it was not confirmed, because he didn´t see the crash). As he was involved in a whirling dogfight with one "Spitfire", another "Spitfire" attacked his Bf 109F from behind.
The cockpit hub of Galland´s plane was hit by a 20 mm shell. But the armor plate which Galland´s mechanic Unteroffizier Meyer coincidentally had mounted on the Kommodore´s aircraft that same morning, saved Galland´s life. Adolf Galland managed to escape and landed at base, where he was hospitalized again - for the second time in twelve days. As a reward, he paid Uffz. Meyer 100 Mark.
"So viel war mein Kopf wert (so much was my head worth)...", Galland ironically commented later.
---
On the following day, 3 July 1941, one of the greatest German fighter aces on the "Channel Front" was killed: During aerial combat near Aire, the Geschwaderkommodore of JG 2 "Richthofen", Major Wilhelm Balthasar, was killed when one wing broke off his Bf 109. Balthasar had achieved a total of 40 victories in WW II and 7 in Spain. Only on the previous day, he was awarded the Oak Leaves to the Knight´s Cross.
During July 1941, the RAF reported that they lost 75 bombers and 120 fighters in daylight missions over the "Channel". According to German reports, JG 2 and JG 26 lost 77 fighters on the "Channel front" during the period 22 June - 31 October 1941.
One of the most successful pilots in JG 26 during the summer of 1941 was Hauptmann Johann Schmid of 8./JG 26. On 7 August 1941, he achieved his victories Nos. 11-13. On 9 August he achieved another three victories (Nos. 14-16). On 10 August, he shot down three RAF aircraft in three minutes time. On both 12 and 19 August he shot down another three RAF aircraft on each day. On 21 August he was appointed Staffelkapitän 8./JG 26 and was awarded the Knight´s Cross. During the following two months, he downed another 20 RAF planes. On 6 Nov 1941, he crashed into the Channel as he was following a Spitfire, and got killed. During the same period, Adolf Galland shot down 21 "Spitfires", 3 "Blenheims" and 1 "Hurricane".
JG 26 claimed more than 900 victories from 1939 to 31 Dec 1941 (including 400 since 1 May 1941), and lost 95 pilots killed and 34 POW during the same period (including 61 pilots killed or POW since 1 May 1941). Most successful pilots of JG 26 on 31 Dec 1941 were: Galland (94 victories), Hptm Müncheberg (62) and Hptm Josef "Pips" Priller (58).
Additional note.
On 21 June 1941, Galland was shoot down twice. At 12:30 JG 26 took off against Blenheims from 21 Sq RAF, covered by famous Polish 303 Fighter Squadron, flying as a part Circus 17 operation . After successful attack on Blenheims (1 confirmed kill) "Dolfo" fell under guns of young and not so experienced Polish pilot, P/O Boleslaw Drobinski. The right wing and cooling system Bf 109 F-2 WNr 5776 was heavily damaged, and German famous ace was forced to immediately belly landing. So, it looks that Galland experienced really bedluck, fighting against Polish fighter pilots... This same day, few hours later, commander of JG 26 was shot down by Sgt Grant from 145 Squadron RAF.
---
Left profile of a Messerschmitt Bf 109 F-2/U, piloted by famous commander of JG 26 "Schlageter", Colonel Adolf Galland. St. Omer airfield, France, spring 1941. A tail of this aircraft is visible in the first photo above.